Teabury at Wallingford Local Producers Market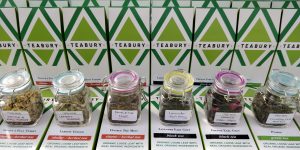 Teabury at Wallingford Local Producers Market
Teabury was very proud to be part of our first outdoor market since lockdown has eased due to COVID 19. We joined the lovely marketeers of Wallingford Local Producers on Saturday 22nd August 2020. Originally (pre lockdown) the market took place weekly at St. Mary's Church. Since lockdown has eased, to respect social distancing, the market is now outside at Centre 70, the old school building on Kinecroft.
I was really excited to book a stall for Saturday and arrived early to set up ready for opening 10am. I was not really expecting many customers thinking the lockdown has scared everyone away from venturing out. However, as the market opened, the customers came. It was so lovely to see some regular shoppers that I hadn't seen since before lockdown times. Everyone was so pleased to be out and shopping again.
The market is a great way to not only shop for unique items but it's also a great social activity. Catching up with people outside of my family, and hearing mirroring stories of lockdown struggles was interesting and reassuring. Also, being able to help families restock their very depleted good quality loose leaf tea supplies was well received. It was lovely to hear people genuinely missing drinking our Organic loose leaf tea. In only 2 hours, we had just over 150 customers to the market, a small attendance compared to the previous week, I was told!!
For Teabury this was a real success. I love this market, it's warm welcoming atmosphere, it's truly lovely customers, the beautiful surroundings and most of all the kind, generous marketeers who help set-up and run the market each week. Without any of this, it would not be a success. Teabury will be supporting the market monthly and can't wait for the next Saturday to pitch up once more. So, if you would like to meet some friendly, genuinely kind people please pop by to Wallingford Local Producers Market. Teabury will be there every first Saturday of the month.
We look forward to seeing you then. Happy sipping!
Wallingford Local Producers Market
Facebook@wallingfordlocalproducersmarket
Teabury
instagram @teabury
Facebook @teabury